Tangled Branches: Cultivated
happenings in and around my zone 6b gardens in northern Virginia and in central Virginia
Thursday, January 31, 2008
Venus and Jupiter
If you're up just before dawn tomorrow and if you have clear skies (here in Virginia, we won't), look to the southeast to see Venus and Jupiter very close together.

Skies were clear this morning and I couldn't help but notice brilliant Venus; then I saw she had a companion. I assumed it was too bright to be a star. A quick check on Stellarium told me it was Jupiter.

Tomorrow morning they'll be as close as they're going to get, but the view should be good for another few days after that. More info from NASA
here
.
Labels: astronomy
Wednesday, January 30, 2008
Signs of Spring
First crocus! Yesterday I noticed a slim pale purple bud and today it was open. Last year this was
blooming on January 4
, so it may not be a reliable indicator of spring.
But here are a few more signs of spring I noticed today:
There was a robin in the backyard.
There was a chipmunk running along the neighbors' fence.
There was a fly buzzing around inside the house.
I went to the garden center and bought some seeds because I was too impatient to wait for the mail ordered ones.

Tuesday, January 29, 2008
Dear Friend and Gardener

The December/January selection for the Garden Bloggers' Book Club, brainchild of Carol at May Dreams Gardens, is Dear Friend and Gardener by Beth Chatto and Christopher Lloyd. The book takes the form of two years worth of correspondence between the authors. I knew the names Beth Chatto and Christopher Lloyd, but my knowledge of their work and accomplishments was only slight. I'd heard of Beth Chatto's famous Gravel Garden and read some short articles by Christopher Lloyd in Country Life. So, I was eager to get to know them better.

The book was perhaps a bit predictable - a lot of "we went here and saw that", "so-and-so came to dinner and we talked about....", "the weather has been miserable", etc. The sort of thing you would expect two friends to tell each other. Except, these letters were not spontaneous communication. They were written as a project for a book publisher. Contrived? Well, maybe. That's what I thought at first, but there was still much to be enjoyed and learned.

One of the most enjoyable aspects was watching the seasons change through the eyes of Chatto and Lloyd. The descriptions of the weather and its effects on their gardens were vivid enough that I could imagine myself there seeing it. Beth Chatto, writing on New Year's Eve:
...the wind is bitter (straight from Russia, so the papers say), but it is brilliantly sunny, even warm on my face as I sit by the window looking out onto the garden. The bleakness of winter is relieved by patches of green; feathery bamboos, various conifers and evergreens, and the bright green algae growing along the shady side of oak boles and branches all illuminated by the long, slanting rays of sunlight. In contrast, leaf-losing trees trees and shrubs form delicate traceries of buff, brown and black against the blinding whiteness of the snow.
This isn't a how-to book, but if you're looking for garden wisdom, you'll find it sprinkled in here and there. A bolt from the blue for me, came in Lloyd's complaint about the renaming of plant families. This happened while I wasn't paying attention and I never knew why. Here's Christopher Lloyd on the subject:

I got in a word with dear old Prof. Willie Stearn, and asked him why we'd been forced into using the suffix 'aceae' for all plant families, thereby impoverishing the English language, which has taken on board words such as composites, umbellifers, crucifers, legumes, labiates and so forth. Apiaceae for Umbelliferae, Poaceae for Gramineae, are not nearly so user-friendly, in any case.

He took my point, but said that we were going back to what Lindley had decreed. Lindley was a great man and his dictum should be followed. Not much comfort there....
Fortunately, the book has a very good index, so if I want to find an exchange about, say, Galanthus, I'll be able to do it easily. I liked the book well enough, and will probably keep it on my shelf to re-read passages and to use as an occasional reference.

---
I found myself wanting to know more about Chatto and Lloyd. Obviously, I could and should seek out their other books, but internet searches rewarded me with additional details.
Monday, January 28, 2008
Cranefly Orchid
Wild orchids! I was so excited to find this foliage, then so disappointed to find out what the flowers look like.


Tipularia discolor is known as the Cranefly Orchid, presumably because the flowers look like craneflies? Nothing like big beautiful tropical orchids, or even some of our showier native orchids - just a brownish-purplish stalk with small greenish-brownish-purplish flowers. Perfect for making itself invisible in the woods.


I'm not sure what made me think orchid when I saw this. I was in the midst of whacking down greenbriar where it had resprouted after last winter's whackage; happened to look down and there it was. If it was growing there before last winter, it would have been impossible to see because it was right in the middle of one of the biggest greenbriar tangles. This past summer, I was busy with the vegetable garden and didn't venture into the woods much, but I need to put a reminder on my calendar to go look for the flowers later this year.


Updated January 30: I discovered after I posted this that it fit in with the Week 2 Theme of Elizabeth Joy's Wildflowers in Winter. Visit her to find out what other wildflower fans are doing to mark time until spring.
Labels: orchids, wildflowers
Sunday, January 27, 2008
Counting Crows
It was only 2 crows, but I liked the title.

Join Shirl for the great global birdwatch this weekend, if you haven't already. Here are the birds I saw this morning. I counted most of these between 7:30 AM and 8:30 AM, but the Downy Woodpecker, the Blue Jay, and the Red-bellied Woodpecker came along later (about 9:45 AM). Since I wasn't doing an official count for the RSBP, I thought I'd include them to make my list look better <grin>. Oops, I just noticed that birds flying overhead don't count, so I'd better strike those crows from the list.


I'm trying out Birdstack, a new online system for tracking bird observations. Not sure how much I'm going to use it. I've been using eBird for years and I've gotten very accustomed to their reporting form. Birdstack is somewhat different, but they intend to coordinate with eBird in the future. One piece of information I'd like to see in the reports is the number of birds of each species for each observation. Most of the above were one or two individuals, but there were 15 Dark-eyed Juncos! They've just discovered the feeder I put up a week ago in central Virginia.

Been playing with my new camera lens, but I could use some more practice. By the time I get done fiddling with the camera, the picture comes out like this:
Labels: birds
Wednesday, January 23, 2008
What Squirrels Think About
How to get into so-called squirrel-proof feeders.


Most of the time it isn't necessary to actually get into the feeder, but this little overachiever managed just that, as shown here in a classic shot from this blog in April of 2004. That particular feeder has been retired.

Currently, I have 2 feeders in the backyard in northern Virginia. The squirrels know at least a couple of ways to get seed out of both of them. Both feeders are suspended from tree branches using long hooks. The easiest way for the squirrels to get a small amount of seed out of them is to climb down the hook and then jump to the nearest tree trunk. This gets the feeder swinging and generally spills some seed out onto the ground.

Here's another technique they recently developed. This is one of those feeders where the perch is attached to a spring which closes a door over the seed if there's too much weight on the perch. Ah, but what if we ignore the perch?


Just climb down the hook and suspend yourself from the roof.


Oops, stay away from the perch, remember?


Now we can get down to serious eating.

They've determined that the spring on the side of the feeder has something to do with the door, and occasionally they pull it out. They did it again yesterday afternoon, causing me to go out, cursing, to put it back together.

Below, we have something I saw today for the first time. The suet feeder was added last week, replacing a different style of suet feeder. I thought the roof on the suet feeder would be slippery enough to keep the squirrels from getting a toehold. Wrong! I watched as this squirrel jumped from the nearest tree trunk onto the suet feeder and then grabbed hold of the seed feeder. Chow time! The dome over this seed feeder had been one of my most effective squirrel-deterrents.



Oh, there are birds too. More pictures later.

Thanks Frances, for planting the idea for this topic.
Sunday, January 20, 2008
Snowdrop Update and Blog Tinkering
Thought I'd show you how the snowdrops fared after my Bloom Day post.


We got a surprise snowstorm on Thursday - about 4 or 5 inches. Oh well.......it is winter.

Shirl kindly provided a link to a video showing how to plant snowdrops in-the-green, and that got me started snowdrop surfing. I turned up some interesting web pages. Several of these mention Hitch Lyman, who is seemingly the only purveyor of snowdrops in-the-green in the US. If you know of any others, please share.

I've been doing some tinkering around the edges of the blog. My right-column blogroll had gotten very out of sync with my reading habits - I had been using Bloglines but came to prefer Google Reader and so didn't keep the Bloglines list up-to-date. I'm still working on merging the two lists. And I changed the format to try to make it easier to read, but that typeface looks rather small to my aging eyes.

Yesterday while looking for something else, I came across a snippet of Blogger template code to display the name of each commenter on the main page (i.e. you don't have to click the "comment" link to see who has commented). I tried it out, but I'm not sure whether I like it or not. One of the things I don't like is that the commenter's name isn't linked to the comment, but to the commenter's Blogger profile page (or some other web page in the case of non-Blogger commenters). We're getting into the political season here in the US and polls are all the rage everywhere, so how about helping me decide this issue?
Labels: blogroll, snow, snowdrops, template
Saturday, January 19, 2008
Seed Catalog Personalities
Can seed catalogs have personalities? Do you buy from a particular company because you like the catalog?

I started this post over a week ago. I was going to write a comparison of a few seed catalogs, but it turned into a cranky rant against one company's glossy catalog. I tried to rewrite the post in milder language, but found I was still cranky. It's just that this catalog was an old reliable - probably the one thing that got me interested in gardening more than any other - and now I don't like it much any more. I feel it doesn't respect me. That it thinks all it has to do is show me some pretty pictures and I'll go chasing them, credit card in hand. Well, it's wrong. I've found other seed catalogs I like much better. They inform me. They entertain me. They like gardening and I think they like me.



The one with no pictures is one of my favorites.
Labels: catalogs
Tuesday, January 15, 2008
Garden Bloggers' Bloom Day
It's Garden Bloggers' Bloom Day, and instead of propping up some past-prime annuals (like last time), I have fresh new flowers to show. How many flowers? 10.5 (one of them got chewed in half). All from the same clump of snowdrops.



Why this clump is consistently early, I can't say. I have others of the same species (Galanthus elwesii) very nearby, but they'll bloom much later. A couple of years ago, I decided I'd increase the snowdrops with checkbook horticulture and planted another group not too far from these. They came up and bloomed the first year and then disappeared.

So that's it for this GBBD. Thanks, Carol, for this great idea and being a wonderful host.

PS. You should have seen what I had blooming last Janaury 15.
Sunday, January 13, 2008
Winter Color: Brown
It's hard to say whether gray or brown is the predominant winter color in central Virginia.


Still, the slanting light of this time of year creates some pretty effects, and the leaf carpet is particularly nice after a rain when the color darkens.

One of the prettier sunlit effects comes from this broomsedge.

Initially I thought this grass might be Little Bluestem (Schizachyrium scoparium), but after some reading and study I sadly concluded it was Common Broomsedge (Andropogon virginicus). It really is common around here too - considered a weed. Most of the year you wouldn't notice it. I don't anyway. But beginning in late fall, the upright clumps turn a very noticeable golden tan color and you see them everywhere.

Apparently, I can be forgiven for thinking it might be Little Bluestem. The overall effect is very similar, but in winter Broomsedge appears more golden than Little Bluestem's rusty color. Also, the seed heads are rather different according to this herbarium sheet, and this illustration.

Regardless of its status as a common weed, I think it's pretty, but I may plant Little Bluestem for comparison.

Also brown, but not in the grass:


Grasshoppers in the woods in January?!?

Update, January 15: Just discovered this excellent page about Broomsedge and its virtues. Most of the web pages I found want to tell you how to get rid of Broomsedge, but this one tells you how pretty it is in winter.
Labels: andropogon, broomsedge, grasses, plants for winter
Saturday, January 12, 2008
Gardening Accidents?
Don't read this if you're a fretful sort of person.

From xkcd via A DC Birding Blog: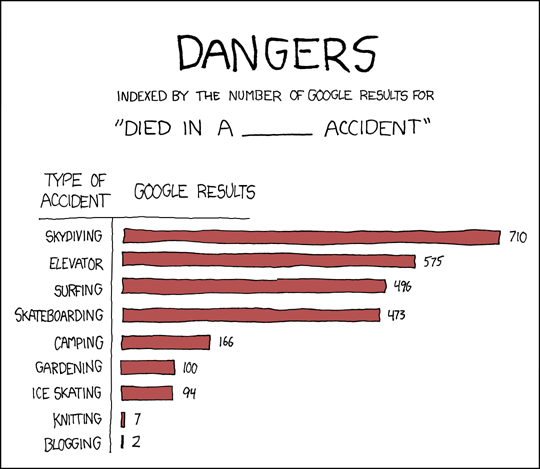 But I just Googled it, and there are 156 results, some of them circular references. I think we're safe.
Labels: humor
Tuesday, January 08, 2008
Snowdrops!
Well, they're not quite in bloom yet, but getting close.



You shouldn't get the idea that the ground is carpeted with these here. This one particular clump blooms earlier than any others here. Check below for the overall effect as it appears to normal people.



I heard a cardinal singing when I went out to get the newspaper this morning. If I could speak cardinal, I would have told him "Save your breath. You're way too early, pal."
Labels: snowdrops
Back to Work with Earlier Sunrises
The 12 Days of Christmas are over and it's back to the salt mines for me. If we were all living in a time and place where the holidays kept going until January 6, the return to work would happen at about the same date when the sun begins to rise earlier (at about 40 degrees N latitude). Is this a coincidence?

We've been gaining daylight at the end of the day since early December here, and the sun is setting about 15 minutes later now than it was then. Now it's time for the days to lengthen at the end and the beginning. But human arbitrariness has intruded once again on the natural rhythm of things. While I was cruising the internet looking for interesting links about the latest sunrise, I found this interesting observation: because the end of Daylight Saving Time was moved to the first weekend in November in 2007, we actually had our latest sunrise in official government-approved clock time in early November. In the vicinity of Washington DC, the sun rose at 7:36 AM on November 3, and today rises at 7:26 AM.

As Chuck B. has gently reminded me in a comment on the previous post, the Earth's orbit around the Sun isn't really a circle, but an ellipse. Because of that slightly squished circle (OK, ellipse) we're closer to the Sun now than we will be in June. I realize that this fact has nothing whatever to do with the current weather, but yesterday felt like spring break instead of back-to-work. And it isn't just here. Tornados in northern Illinois in January?!?!? I can hardly imagine such a thing, probably because the last time anything like that happened was before I was born. I sure hope Edwards Apple Orchard is able to recover from the damage - in addition to excellent apples and cider, they have some of the best cider donuts ever.

Meanwhile, the benign side of springtime is almost on display here. The snowdrops were just showing a few pointy green leaves last week, but now the flower buds are clearly visible. Pictures later - it's still dark as I type this. Those earlier sunrises will be very welcome.