Tangled Branches: Cultivated
happenings in and around my zone 6b gardens in northern Virginia and in central Virginia
Saturday, February 27, 2010
GWR
...means Green When Ripe, when referring to tomatoes.

I can't make up my mind what I think of them. Last year I grew two kinds - one intentionally and one unintentionally. The intentional GWR was 'Green Zebra', which seems to be one of the better-known ones. It's a "modern heirloom" variety, by which I mean that it wasn't passed down from generation to generation, but bred in the current generation by a current plant breeder - Tom Wagner. I got off to a bad start with 'Green Zebra'. Out of 14 tomato plants, it was the only one attacked by a cutworm. Luckily I found it before it was too wilted, so I just stuck the cut-off stem in the ground and it formed roots and grew. But it was a bit behind the other plants in setting fruit.

I should back up at this point and say that 2009 was not a easy year to grow tomatoes. The weather was cold and rainy until about July (as I remember it), and I had B trouble in the garden all season - Bugs, Blights, and Beasts. I think the tomato leaf spot disease was Bacterial Spot. All 14 plants were affected to some degree. I didn't notice any spots on the fruit, but lost most of the foliage on many plants. I picked off and burned the spotted leaves, but the problem persisted all season, even after the weather turned warmer and drier. Then the Beasts began to nibble on the tomatoes just as they started to ripen, so I resorted to picking them early and leaving them to ripen in a protected spot. I know a lot of gardeners do this routinely, but I don't. Or didn't.



You can see the tomato diversity of my garden pretty well, but the photo also illustrates another of my problems. All the variously-shaped pink, black, yellow, bicolor, and even green tomatoes have crowded the basic round red tomato right off my planting list. I tried to remedy that last year but was frustrated by the performance of my selections. 'Lida Ukrainian' bore a small number of unremarkable fruit. 'Bloody Butcher' also produced sparsely - I did admire the color, flavor and size, but there were darned few of them to admire. 'Break O'Day' made a huge healthy plant, not too badly damaged by the leaf spot disease, and laden with large numbers of perfect round fruit. I thought Wow, this is going to be the one. I waited for them to ripen. And waited and waited and waited....Gee, this is taking a long time to ripen....eventually, they looked like this:


The skin turned yellow, but the inside stayed green.


It tasted though, exactly like a ripe red tomato. And a pretty good one too. So. Was this a case of stay pollen? A mutation? A stray seed? But this kind of thing happens when you only grow one plant of each variety. In 2008, my favorite 'Black Russian' tomato produced pink fruit. The plant was from the same batch of seed I'd been using for several years. In 2005, I bought a plant of 'Green Zebra' which turned out to be a red cherry tomato. And last year I gave a 'Break O'Day' seedling to my parents and that plant produced the expected round red fruit.

But back to GWR tomatoes. After you've layered multicolored slices for a fancy-looking plate of tomatoes, or made a reverse salsa (green tomatoes, red chiles), what do you do with the rest of them? I chopped some up and put them in the freezer. They're still there. Green spaghetti sauce? Green chili? I did toss a few in some Indian dish where the color didn't matter, and that's probably how I'll use the remainder, but more from a frugal sense of duty than any real enthusiasm.

Any suggestions? If I can't think of more ways to use the GWRs they probably won't be invited back.
Labels: tomatoes
Monday, February 15, 2010
Garden Bloggers' Bloom Day
...is a bust. For the visuals, see the previous post.

No flowers here. Even the indoor orchids are still just buds. I think I should go buy another one just to have something blooming.

This may be a record at Tangled Branches - longest period of time with no flowers.

But there are some hopeful signs. The snow is melting, just not very fast. I heard a cardinal singing this morning. While scanning the trees for birds for the Great Backyard Bird Count, I noticed the maple buds seem just a little more plump.

Welp, since there's nothing much to look at here, this might a be good time to have another cup of tea and start scanning the list of Garden Bloggers' Bloom Day posts for flowers elsewhere.
Labels: birds, in bloom, weather
Thursday, February 11, 2010
Doctor Zhivago
What's the difference between Dr. Zhivago's Varykino and my house?

Dr. Zhivago's:



Mine:



Mine has real icicles.



His didn't. Well, not the inside shots anyway. Not sure about the exterior. Anybody know?

(for the record, all my icicles are outside)
Wednesday, February 10, 2010
Scent Longing
It's early this year. Maybe from all the snow and ice outside but I need to smell something fresh and green right now.

The last time I wrote about this was just about 3 years ago. The impetus for that post has not changed one bit. Towards the end of winter I start to crave green or resiny or citrusy scents. Something sharp and motivating.



I wrote then that if The Original 1970s Clairol Herbal Essence shampoo was available today I'd buy a lifetime supply. Guess what? No, not the real real thing, but a reproduction.




I found it yesterday while searching the internet for any new Herbal Essence sightings. Incredibly, sometimes old bottles of The Original are discovered in dusty basements of now-defunct shops and turn up on eBay. You may have to scroll down to view that listing, as the auction has ended and they stuck a bunch of Recommendations For You on the top of the page I see. It went for $47 plus $7 shipping. Maybe $14.95 for the repro isn't as outrageous as I think.

I suppose I should have qualified my earlier promise to buy a lifetime supply. I should have said I'd buy a lifetime supply if it was available at 1970s prices. Nevertheless, I did spring for the repro version even though I think it costs too much (ordered it yesterday), but $54 for a bottle of old shampoo? I don't know....It sure would be interesting to compare the repro to the real thing.....I think I should turn off the computer before I bid on the next one.

After my 3-years-ago post, I bought a fragrance oil from a soap-making supply place that claimed it was a copy of The Original. It was nothing like. Not even close. Then a couple of years ago, I found a Yankee Candle called Greenhouse that reminded me of The Original. More floral, but similar. I bought one votive to sniff and consider, and then they discontinued that scent. It's still available from other sources, just not directly from the company.

By the way, does anybody else remember the Coty Sweet Earth solid perfumes?




I had forgotten all about those and I loved them when they came out. I'm sure I had the Woods version and possibly the Grasses version. I probably never would have thought of them again except that Vermont Country Store has some repro versions of those too, but they seem to be sold out of the ones I loved.

Michelle at Glass Petal Smoke has written a lovely reminiscence of the these fragrances.

Over the last few months, I've been dabbling in so-called natural perfume and I think I could make my own knock-offs of some of the Coty Sweet Earth Woods fragrances. I have sandalwood and patchouli oils and think I could come up with a good amber accord if I work at it.

...I want to write more about natural perfumery because most of the components are derived from plants, but this post is way too long and rambling already...

(to be continued)

---
Update: I could have sworn I remembered that the early advertising for The Original Clairol Herbal Essence mentioned specific herbs or scents. It did. In a 1973 newspaper ad, it says "Almost immediately the beautiful scents of herbs and wildflowers surround you. Camomile. Juniper. Birch leaves. Melissa. Fragrances you won't be able to resist."
Labels: fragrant plants, shopping
Tuesday, February 09, 2010
Blogger Tech Talk
(Sorry about the long dry stretches of text here.)
Almost a year ago, I started to write a post to explain why my blog doesn't have all the modern features that readers have come to expect. It proved to be difficult to write. I wanted to explain a technical issue in a non-technical way, struggled with different ideas for doing that, and then gave up.

I did write a blog-history post on my 5-year anniversary back in April 2008, and that generated a lot of good comments. I was moaning about the difficulty of finding time to garden AND blog AND maintain online friendships all at the same time. That hasn't changed and that was BEFORE I joined Twitter and MyFolia and Ravelry and Tomatoville and Flickr and..... what was I thinking???? But that's another post.

This post is about Blogger dragging me out of my comfort zone.

The short version is that on January 22, Blogger announced they would no longer support FTP publishing and my blog is published via FTP. If that doesn't mean anything to you, I'm sure you're in good company. Let me try to explain.

Way back when I began this blog, Blogger was not owned by Google. The only way to have a Blogger blog that didn't carry Blogger advertising was to publish to your own domain (usually something dot com) via FTP (file transfer protocol), which meant that the software used to create and organize blog posts was located on Blogger's servers (computers which serve up info over networks), but once those posts were created they would be copied to the user's domain (different server) for viewing by the one or two people who knew about the blog and wanted to read it for some reason. So being a control freak, and not wanting to display advertising, and already having my own domain name (tangledbranches.com, which I registered to have a place to publish my family history info) I chose that option.

That was all well and good for several years. But time passed and the world changed. There were NO social networking features in the original Blogger, not even comments. No newsfeeds either. My blog started looking outdated when Blogger (since acquired by Google) introduced "Layouts" intended to replace the original "Templates". Those are the bits of software that control the appearance of a blog and all the cool stuff that people put in headers and sidebars. Layouts rely on additional software on Google/Blogger servers to control and display the newer social networking features, such as Google Friend Connect and feed widgets (displaying your friends' latest posts in your sidebar). And Layouts are not available to me, as a user who publishes via FTP to my own domain. So I don't have any of that cool stuff in my sidebars. Also, there was/is a problem with displaying this blog's latest posts in Google widgets on other peoples' blogs. I thought I had taken all the necessary steps to resolve that, but it still doesn't work.

I'm still a control freak and I don't see any good reason to let my writing reside on server space which I'm not paying for. In my mind that creates a question of ownership, even though the Blogger Terms of Service currently claim no ownership of individual blogs (Item 6). Terms of Service can and do change. "Google may, in its sole discretion, modify or revise these Terms of Service and policies at any time, and you agree to be bound by such modifications or revisions."

But with the suspension of FTP support, Google will no longer allow the option of having Blogger blogs reside anywhere other than Google servers. That is completely understandable when you consider that they are currently providing a valuable service FOR FREE. I assume they somehow need to make money on the venture at sometime.

So, one way or another I have to change the blog or stop blogging altogether. During the writing of this post, I convinced myself that rather than switching to a Blogger Custom Domain (meaning that the blog's address would still be somewhere on tangledbranches.com, but the blog would actually reside on Google's servers) I will most likely switch to WordPress hosted under my own domain. Wish me luck.
Monday, February 08, 2010
A Winter to Remember
Normally, about this time of year I begin tormenting northern gardeners with pictures of snowdrops or crocuses or maybe even an early daffodil. This is not a normal year.


That's my deck at Tangled Branches North yesterday morning.

You may have heard about our recent snowstorm. I think it was on the news. But you may have forgotten about the similar storm we had in December. Coming so close to Christmas, I didn't write anything at the time but I did post some pictures on Picasa.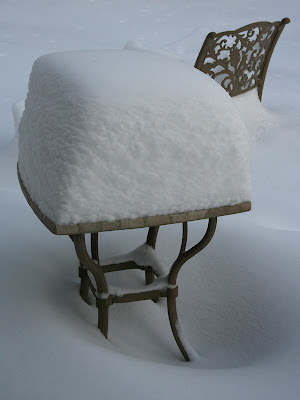 That's the same table on December 20. We guesstimated that was about 20 inches of snow, but after the recent storm we actually measured.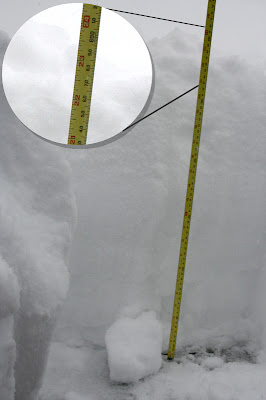 That's a patch on the driveway. About 24 inches of snow. It took the spouse and I three or four hours of shoveling, but we finally broke through to the street yesterday. And we don't have a long driveway.

This is what we saw when we opened the garage door Saturday afternoon.


That is not a snowdrift. That's flat accumulation of snow.

This is after the first shoveling session.


There is a similar-sized pile of snow behind the photographer. The blob to the left of the pile is a Japanese yew that I've hated for years. I think nature may have helped rid me of it. I brushed some of the snow off, but it's quite bent.

There's a lot of tree and shrub damage with this snowstorm. This is a small oak tree in our wooded backyard.


The white blob to the left of that is my favorite holly tree. You win some, you lose some, but I'll take steps to try to save the holly.

This is the neighbors' detested (by me) Bradford Pear. There was a low branch that protruded over the sidewalk. Nobody but a small child could walk under it. That branch is lying in the street in this picture.



Normally, I don't post wide shots of the backyard because I find few angles that don't include the neighbor's woodpile, compost pile, shed, swingset, garbage cans. As I say, this is not normal. The snow airbrushed out all the uglies.



Well, I think you get the idea, but it really was a storm for the record books:

PUBLIC INFORMATION STATEMENT...CORRECTED REAGAN NATIONAL INFO
NATIONAL WEATHER SERVICE BALTIMORE MD/WASHINGTON DC
1030 PM EST SAT FEB 06 2010

...PRELIMINARY SUMMARY OF TWO-DAY STORM TOTAL SNOWFALLS EXCEEDED IN THE BALTIMORE-WASHINGTON AREA...

THE 32.4 INCH TWO-DAY STORM TOTAL SNOWFALL RECORDED TODAY AT DULLES INTERNATIONAL AIRPORT EXCEEDS THE PREVIOUS TWO-DAY STORM RECORD OF 23.2 INCHES ON 7-8 JANUARY 1996.

THE 24.8 INCH TWO-DAY STORM TOTAL SNOWFALL ESTIMATED TODAY AT BALTIMORE/WASHINGTON INTERNATIONAL THURGOOD MARSHALL AIRPORT EXCEEDS THE PREVIOUS TWO-DAY STORM TOTAL SNOWFALL RECORD OF 24.4 INCHES FOR BWI AIRPORT FROM 16-17 FEBRUARY 2003. THIS WOULD ALSO BE THE 2ND HIGHEST TWO-DAY STORM TOTAL ALL-TIME SNOWFALL FOR BALTIMORE RECORDS WHICH DATE BACK TO 1871...BEING SECOND ONLY TO THE 26.3 INCHES WHICH FELL 27-28 JANUARY 1922.

THE 17.8 INCH TWO-DAY STORM TOTAL SNOWFALL RECORDED TODAY AT RONALD REAGAN WASHINGTON NATIONAL AIRPORT IS THE SECOND HIGHEST TWO-DAY STORM TOTAL RECORD...SECOND ONLY TO THE 18.7 INCHES FOR NATIONAL AIRPORT FROM 18-19 FEBRUARY 1979. THIS WOULD ALSO BE THE 4TH HIGHEST TWO-DAY STORM TOTAL ALL-TIME SNOWFALL FOR WASHINGTON RECORDS WHICH DATE BACK TO 1871...BEHIND ONLY THE 27-28 JANUARY 1922 KNICKERBOCKER STORM WITH 26.0 INCHES...THE 12-13 FEBRUARY 1899 STORM WHICH PRODUCED 19.0 INCHES...AND THE 18.7 INCHES WHICH FELL 18-19 FEBRUARY 1979.

AS WITH ANY MAJOR CLIMATE RECORD ACHIEVEMENT...THESE PRELIMINARY RECORDS WILL BE QUALITY CONTROLLED BY NOAA'S NATIONAL CLIMATIC DATA CENTER OVER THE NEXT SEVERAL WEEKS.